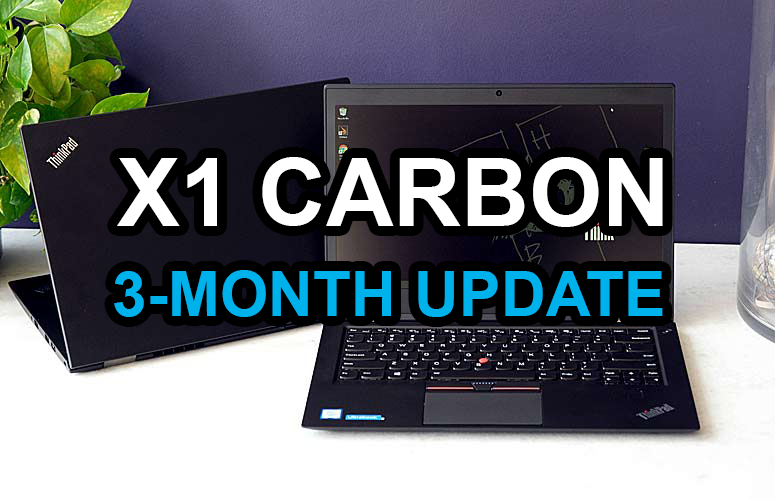 It has now been a little over 3 months with the X1 Carbon. I thought you would like to know my final impressions after using this laptop almost daily for 3 months.
Performance – X1 Carbon Gen 4 Ultrabook 3 Month Update
Performance-wise this laptop lacks nothing. I do not at all regret the 16GB of RAM upgrade and better processor upgrade. In fact even at full usage I never experience any lag or performance decrease. The only time that I saw a performance drop was lower framerates when trying to record the screen while also trying to play a youtube video (for a narration of a youtube video that was playing). However, I just tried that just now and it was fine, I was probably doing far too many things.
This laptop is basically equivalent to a fully-powered desktop computer as far as performance is concerned. I could even doing modest video editing, although due to the lack of a discrete graphics card, it took awhile to process the video. Still, it was possible. I can do 99% of what I need on this laptop. That is saying a lot for a 2.5lb ultrabook.
Battery Life – X1 Carbon Gen 4 ThinkPad Ultrabook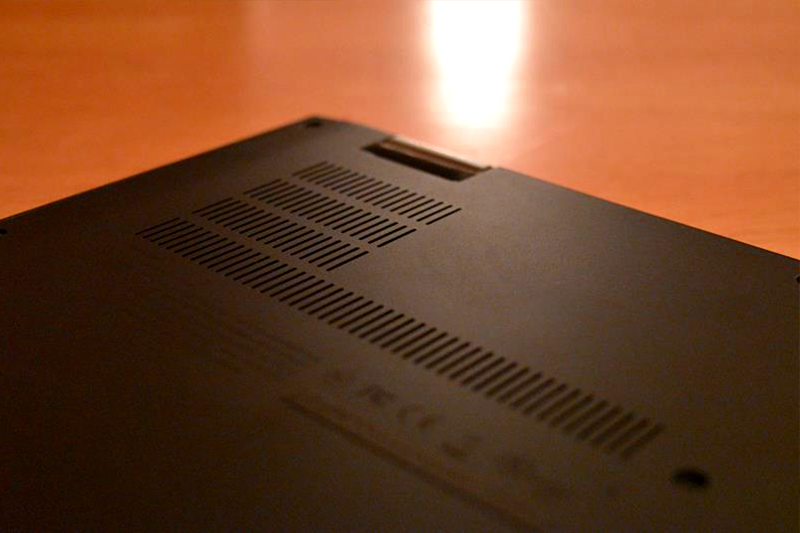 At full power on the Maximum Performance plan, and may include videos and video editing and extreme use – up to 8 browser windows, hundreds of tabs open at once, photoshop, and other programs running, the battery dies within the day. I could wish for a longer battery life. I wish I could use it at maximum usage without having to plug it in for the whole day. Maybe I am dreaming for a laptop, what I'm suggesting may not actually even exist. Not in an ultrabook anyway.
There is a loud annoying beep that scares me half to death saying the battery is low and I can't disable the audio – even turning off the low battery alarm does not work. Still, I work long hours and my extreme usage of this laptop actually suggests the battery life is really good, for a laptop.
Storage – ThinkPad X1 Carbon Gen 4 Ultrabook

Note: I made two partitions which is why you see two drives. It is one drive in two partitions. Also, there is no CD/DVD drive. What you see is an emulated CD drive which I used software to create.
A downside is storage space. Even though I took the 256GB M.2 upgrade, I have already run out of space multiple times. I had to move things over to my desktop or external drive. I am planning on upgrading to the 512GB or 1TB M.2 drive. I would suggest if you are a storage hog like me, don't get the 256GB upgrade but just get the cheapest hard drive and upgrade it manually to a larger drive.
Although the space is inadequate for my needs, it might be fine for the casual user. Still, the excellent thing is that the X1 Carbon Gen 4 allows for the storage upgrade, so that I can manually upgrade without having to get a new laptop or live with it. This is one of the primary reasons I bought a laptop without soldered storage – and this has paid off because now I need to upgrade for more storage space.
Wireless – ThinkPad X1 Carbon Gen 4 Ultrabook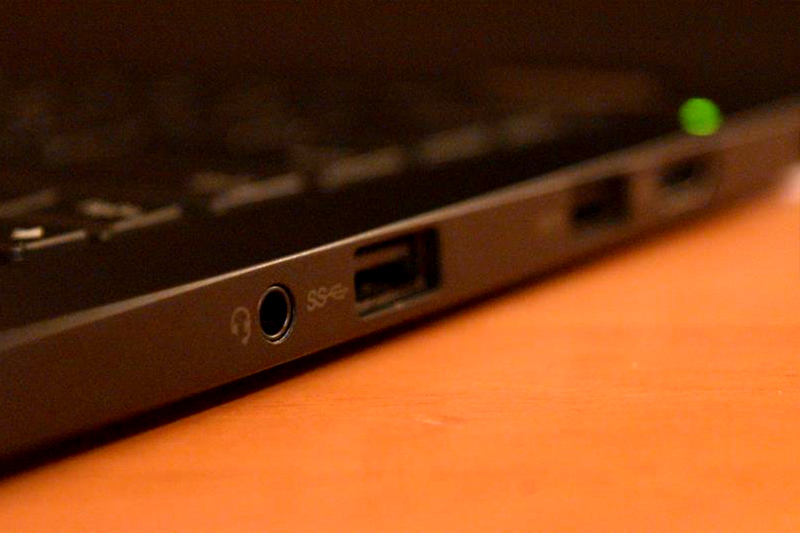 The wireless card is fast. However, there is a big problem with the wireless. It is the bluetooth – I cannot get bluetooth to work (Update: problem solved, see below). I confirmed that the wireless card inside is supposed to have integrated bluetooth 4.0.
As a result, I am forced to use a USB bluetooth device. This is disappointing because I use bluetooth wireless speakers to play music from my laptop and I don't want this bluetooth usb stick sticking out of the side of my laptop; and plus, it's buggy.
This may be a result of the fact I am running Windows 7 instead of the default Windows 10 that came with it; that is, it could be a driver issue. I tried everything, even all the different drivers, and still I cannot get the bluetooth to work. I tried all the latest drivers and even uninstalling from device manager and reinstalling – nothing works.
Not only that but Lenovo overnighted me a new wireless card. I installed it, but still cannot get the bluetooth to work. It just isn't going to work unless they update the drivers – or, maybe I got two defective wireless chips in a row. No way to know. I really want to use bluetooth internally without this external USB bluetooth stick.
Update: I did finally get the internal bluetooth to work! Using the internal bluetooth has really transformed my experience. Being able to instantly connect to a external bluetooth speakers has really transformed my experience with this laptop.
I am not 100% sure how I did it, or at least which thing I did which was really the thing that made it work; the other week I spent 4 hours opening up device manager, deleting all inactive drivers, downloading the latest drivers from both the lenovo and intel site for both the wireless card (Intel Wireless-AC 8260) and bluetooth (which is part of the wireless card but requires separate drivers), and finally, finally I got it working.
I had to install the hotkeys driver, as well as the Intel Proset driver. Bluetooth still didn't work but after doing all of this and restarting, bluetoooth still wasn't active, but then I touched the F8 key which is the button for the wireless hotkey toggle and it gave me a new popup: "Activate all wireless radios?
When I press it right now this is what shows up: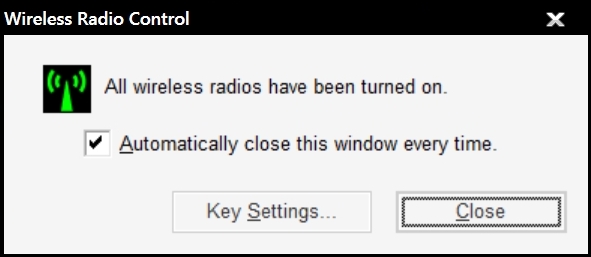 Nothing in this popup indicated to me that it was going to activate the bluetooth, but I was trying anything and everything. And when I clicked "YES" suddenly it turned on the bluetooth! Now in the taskbar the bluetooth icon showed up, and in Network Connections there is a new wireless adapter called "Bluetooth Network Connection 2".
Now, bluetooth works perfectly in Windows 7. On reboot, bluetooth is not turned on but just pressing the wireless hotkey (F8) gives me that popup and turns it right on, and instantly reconnects to saved bluetooth devices as expected.
Now I can easily listen to music and audiobooks and have external audio with ease. It may seem like a small thing, but actually this makes a huge difference to my experience with this laptop.
Portability – ThinkPad X1 Carbon Gen 4 Ultrabook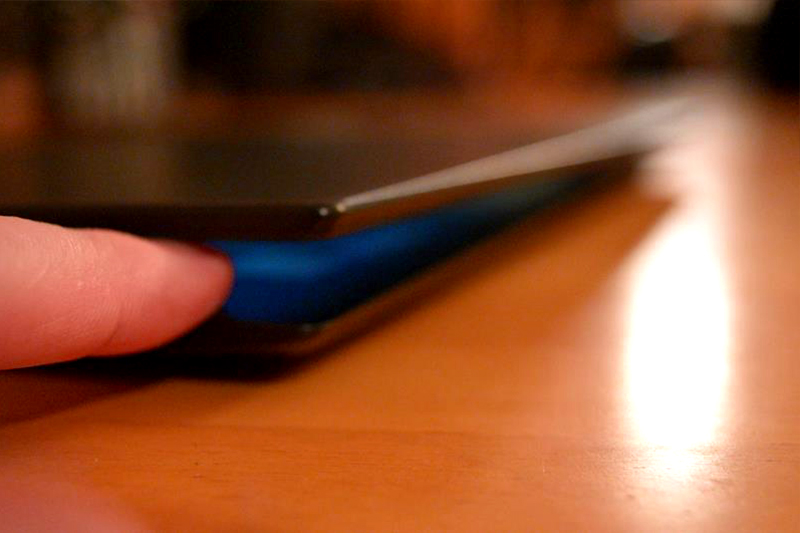 I cannot complain. This laptop is so thin and light that I can use it anywhere. I love that. This laptop has made me way more productive. Also I think I'm working too much now!
Fan Noise – ThinkPad X1 Carbon Gen 4 Ultrabook
The fan can get annoying at times. While it is dormant, I can't even hear the fan. However, under heavy use the fan gets quite loud, and this can be annoying. I turned the fan to passive mode in battery settings, but this did not seem to have any effect.
Keyboard – ThinkPad X1 Carbon Gen 4 Ultrabook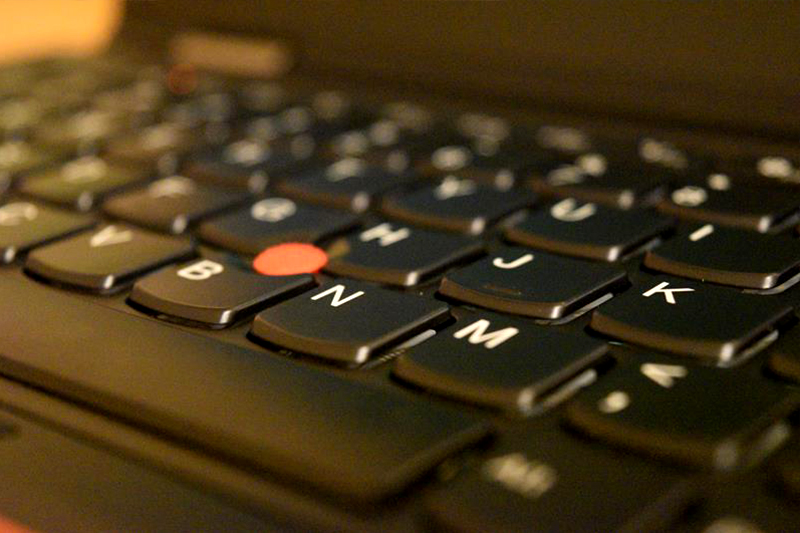 The backlight is a problem. Often I refer to keep it off because at extreme angles it lets in too much light – especially if typing in a dark room. The backlight is only useful is looking at the keyboard at a 45 degree angle or more.
It is also annoying that every time it wakes from sleep it turns off the backlight. There is no way to keep the backlight on – you have to manually turn it back on every time. As a result often I use this with the backlight off. Still, it's a useful feature to have, but needs improvement to prevent excessive light bleed around the sides of the keys.
Audio Quality – X1 Carbon Gen 4 ThinkPad Ultrabook
As I get used to a smaller screen, and when using an external mouse, it is much better. I feel limited with only the trackpad and have not really used the iconic red Thinkpad thumbstick since I'm not used to that yet. However, the two physical buttons located below the spacebar and above the touchpad are extremely useful and I use those frequently.
The touchpad really isn't adequate for detailed graphics work (like photoshop), so I use an external mouse instead; however, the touchpad is fine and responsive for normal use. However, I do find it clunky, but it could be that I'm still getting used to using a trackpad after years of using a trackball mouse. I often do find myself using a combination of the touchpad, my external trackball mouse, and the physical right and left-click buttons. Maybe at some point I will start using the pointer stick more.
Screen Quality – X1 Carbon Gen 4 ThinkPad Ultrabook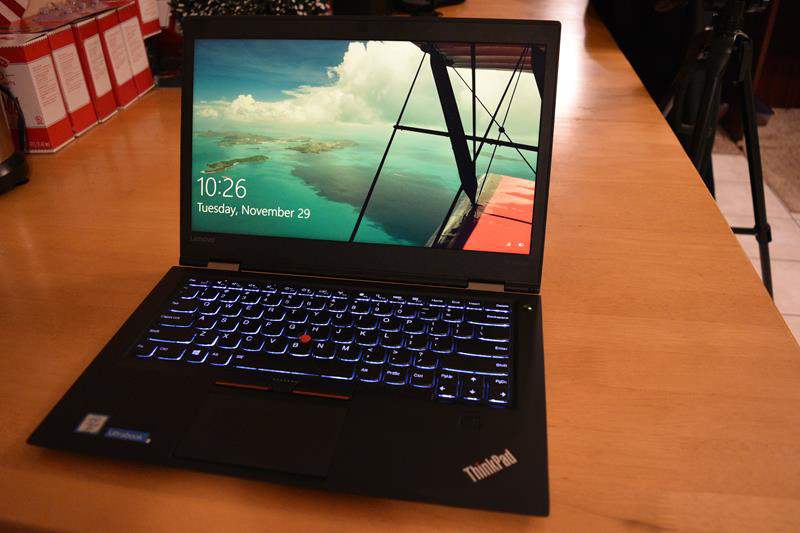 The screen quality is as good as day 1. There is nothing to complain about. I am really glad I got the 1080p version instead of the 2140p version, because scaling is already slightly small on the 1080p version with the 14″ screen. Still, it's better than the closest competitor, the XPS 13, with it's smaller 13.3″ screen. I am glad I have the 14″ screen on the X1 Carbon.
Overall Impression – X1 Carbon Gen 4 ThinkPad Ultrabook
Overall, I am happy with this machine. It is not perfect, but it is probably as close as you can get, especially for the featherlight weight and ultra-thin profile. The build quality is good and it is already paying off in terms of productivity. The only real downsides are the audio speakers rattling defect, the fact I can't get bluetooth to work on Windows 7, and the keyboard backlight bleed at angles. Other than that, this is an excellent laptop.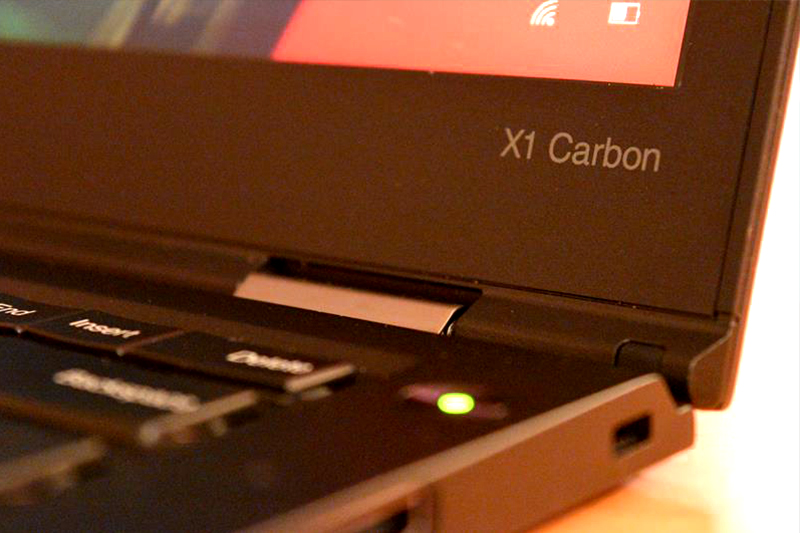 I would definitely recommend the X1 Carbon, although for the top performance upgraded version like I have, it is a bit expensive. I bought this on Black Friday and got a stellar deal, but if I had to pay full price for it then my review might be a little bit different. If you don't get 16GB of RAM, you can't upgrade since the RAM is soldered to the motherboard. I would definitely recommend the 16GB RAM upgrade when you purchase it if you are a heavy user.
Still, this laptop probably beats out the main competitors in the ultrabook market, and may well be one of the best laptops (not including gaming laptops) ever made up to the year 2017. I can't wait for a 1mm thin laptop that weighs only 5 ounces and is 20 times more powerful! Maybe next decade? Until then, this laptop should do well for a long time.
Share this:
Welcome my friend, Helper Cat says you need to register for that! :)