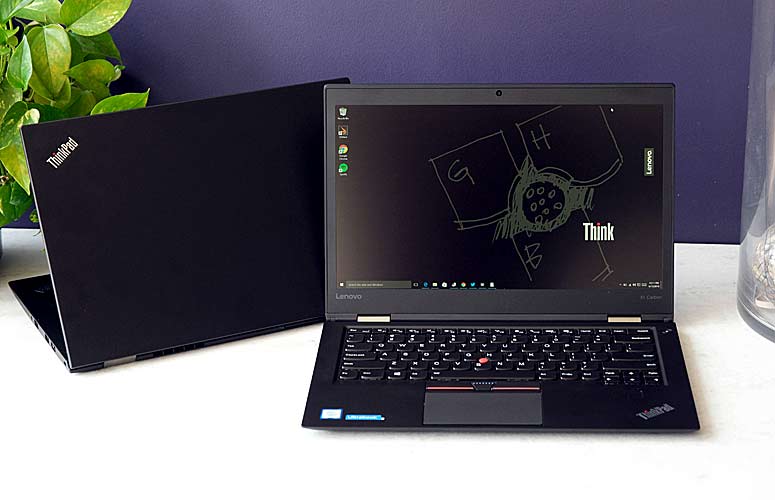 My new Lenovo 2016 Gen 4 X1 Carbon ThinkPad ultrabook laptop arrived today. I purchased this on Black Friday, and I was thrilled that it was delivered 3 days earlier than expected – it was supposed to arrive this coming Thursday but it came today (Monday).
This is no thanks to UPS however, as the delivery man proceeded to stick the sticker on my door for "no one home" without knocking and try to leave – while I went out to stop him as he got in his truck to leave, waving, "Hey! Hey! Don't drive away!". But I digress.
Weight & Size
So my new laptop weighs in at a featherweight 2.6 pounds and hardly half an inch thick at a slim 0.65″. When I say featherweight, I mean it rather literally – I can hold my down (feather) pillow in one hand and my laptop in the other and can hardly tell the weight difference.
It has a 14″ screen, and if you use a 15.4″ laptop you might wonder if the screen is too small. Well I will tell you that no, I believe this is the perfect size, for me anyway. I think I am glad to have this larger screen than the 13.3″ screen of other laptops in the same weight class. It is also very small, yes with a sizable screen.
The full dimensions are 333 x 229 x 16.45 mm, which translates to 13.11″ x 9.02″ x 0.65″. Very portable and slim.
ThinkPad X1 Carbon Gen 4 Ultrabook Laptop Thin Picture
ThinkPad X1 Carbon Gen 4 Ultrabook Laptop Thickness Pictures
Here I compared the thinkpad laptop thickness with a quarter for scale.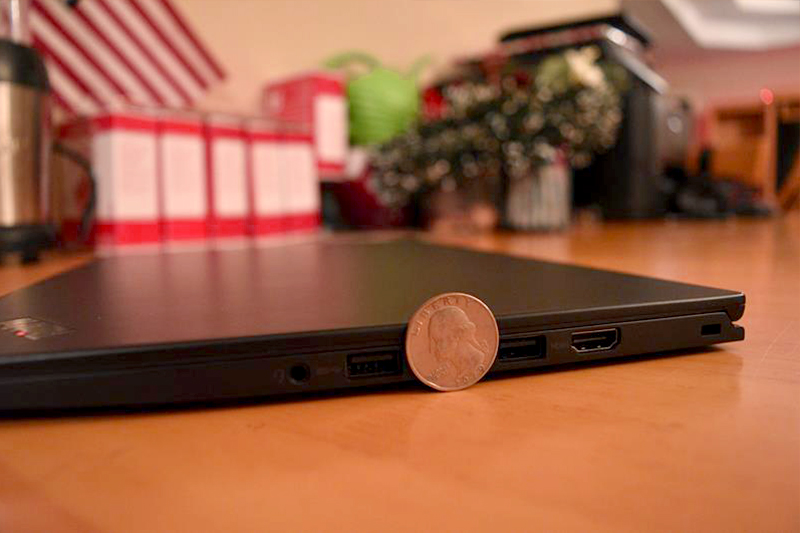 Here I compared the thinkpad laptop thickness with my car key for scale.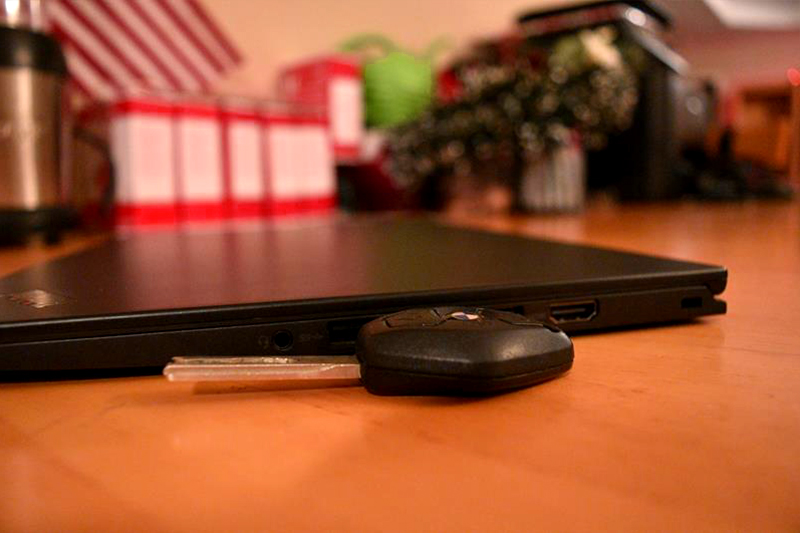 Here is another view of my thinkpad laptop thickness with my car key for scale from the side view.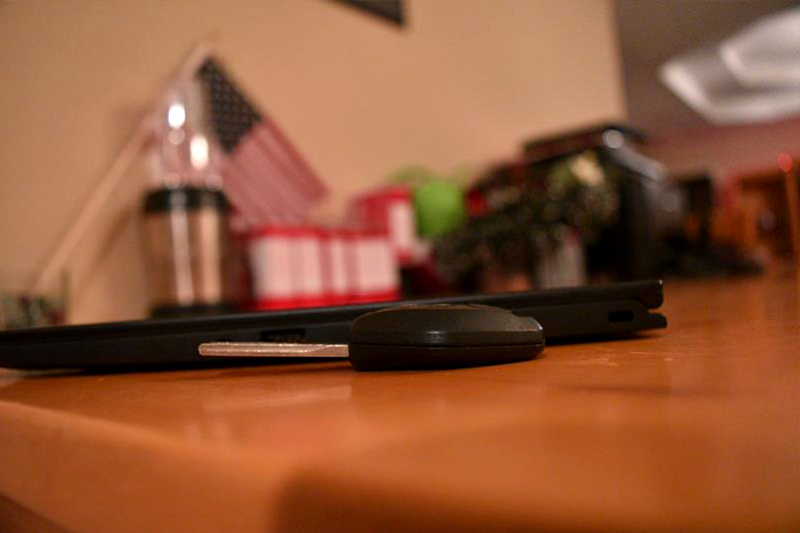 CPU Processor
I splurged for a top of the line model this Black Friday.
My X1 Carbon model has a 6th-gen Core i7 6600U 2.6 GHz Skylake quad core processor with a 3.4GHz TurboBoost capacity. Unfortunately my CPU is not a neural net processor like the Terminator. I guess Skylake is not Skynet.
RAM
I have it maxed out 16GB RAM – but alas, Speccy does say that this laptop has DDR3 and not DDR4. That is interesting. I checked CPU-Z and yes this 2016 laptop is not utilizing the latest DDR4 technology. Nonetheless, the RAM is clocking in at around 1860Mhz, not too shabby.
Normally I wouldn't have bought the model with max RAM, but the X1 Carbon has the RAM soldered to the motherboard, so it cannot be upgraded. So if I got the 8GB model (or *shock* the 4GB!) then I would be stuck with that amount of RAM until it was time for a new laptop. I've always wanted a 16GB RAM laptop, so I went for it.
ThinkPad X1 Carbon Gen 4 Ultrabook Laptop Specs Pictures
Hard Drive
As for the hard drive, it is a super speedy 256GB M.2 SSD (Solid State Drive). This is the only component I did not max out (at least, that I would have wanted to no holds barred), but that is okay because the drive can be upgraded if desired to a larger M.2 drive. Perhaps in a few years I will upgrade to a 10TB SSD. Whenever that comes out! Heck if I had my way I would put a 10PB (10,000TB) in here! Maybe in 50 years. By then however we will have quantum computers in our brains and holographic projectors in wearable contacts.
This drive is a SATA III Samsung 256 M.2 SSD. It is not a NVMe drive, but this Gen 4 X1 Carbon is indeed capable of PCIe-NVMe for lightning fast speeds. Nonetheless this drive is super quick! I use an SSD in my desktop that I built and it could just be me but this laptop drive seems slightly quicker. I would not know for sure without running benchmarks.
In fact, the drive is so fast that I clicked to install a chrome extension and I thought nothing happened. It installed faster than I could blink. And keep in mind I have been using an SSD on my PC for years now, so I am accustomed to super-fast SSD speeds, and the speed of this drive was literally faster than I could blink. Literally.
ThinkPad X1 Carbon Gen 4 Ultrabook Laptop Bottom Left Logo Picture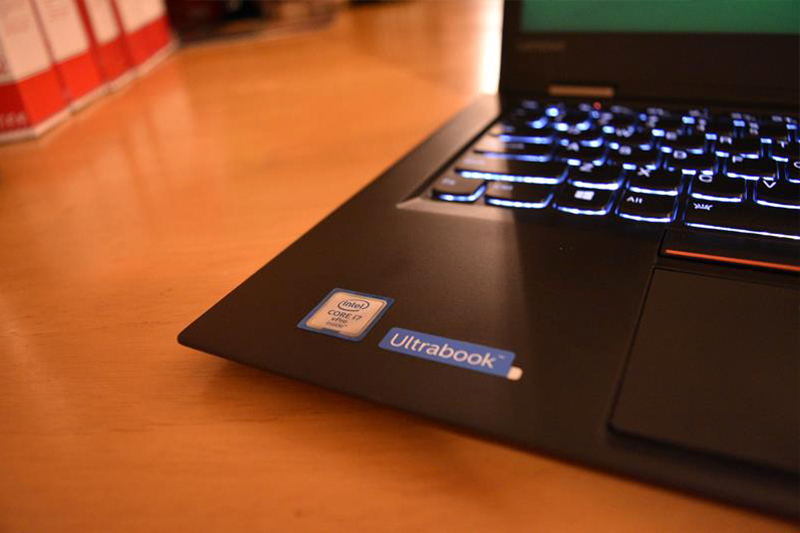 My Usage of This Laptop
A little background, my primary reason for getting this laptop was for writing. However, I also plan on doing some graphics work and possibly some server work. And for all intents and purposes, this laptop has already proven to serve its purpose. I type very fast – not ultra fast but very speedy – and the fact that I am a writer and I wanted to use this to write a book was one of the primary reasons for getting this particular laptop.
So because of that, I had several things in mind for my new laptop when I began researching the latest laptops a few months ago. First, I wanted a very very lightweight laptop. In the past using a laptop has been limited for me because it's impractical to use due to weight. At the cool 2.6 pounds, I hoped that it would be more portable than my past laptops. For example a few years ago I had an MSI gaming laptop before I built my powerful PC.
It was a beast, sure, with 16GB of RAM and a dedicated graphics card. It had a 17″ screen, mechanical steelseries color-changing keyboard and weighed in like a brick at 8 or 9 pounds or so. Not quite the thing you could carry around. I did try though! What is amazing is today you can get their new series with twice the power at half the weight – only 4 pounds. At $1500 I was very tempted, but I had a goal in mind – lightweight and portable. 4 pounds wasn't going to cut it for me – it was under 3 pounds or go home.
Well I can tell you right now, I am pleased indeed. Granted, my expectations were that it would weigh ounces, like I wouldn't even feel it on my lap, even though I knew it would be 2.6 pounds. I thought it would feel lighter. It doesn't weigh as light as a piece of cardboard, no. I would love that but I estimate another decade before we have that. No matter, it is indeed very lightweight. It is in fact as portable as I had hoped. I can hold with one hand as easily as I can hold my tablet – not that I would use it that way. On my lap I can barely feel it.
ThinkPad X1 Carbon Gen 4 Ultrabook Laptop Top Corner Logo Picture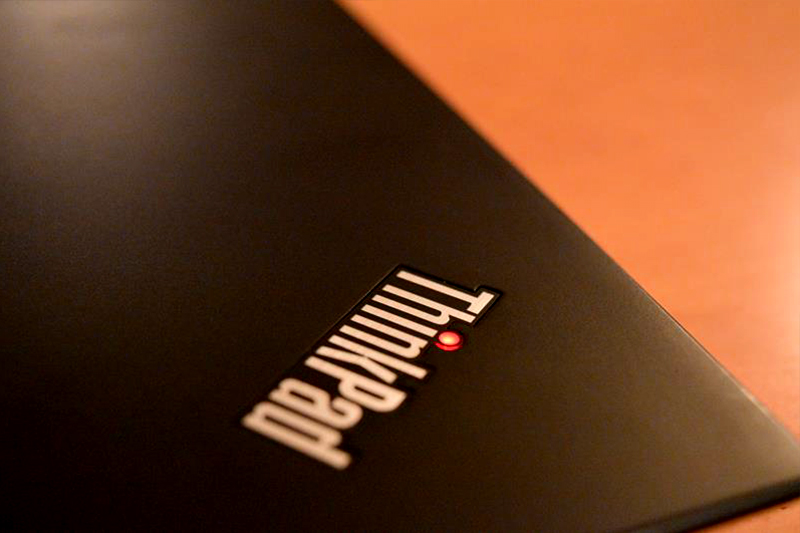 Keyboard
Second most important for me was a good keyboard. I don't ever want it to skip any keys and I wanted it to have a good feel. I had read that the XPS 13 as amazing as it is isn't exactly known for having the best keyboard, but the ThinkPads are (the X1 Carbon is a ThinkPad). After typing for years on a fully mechanical Cherry MX keyboard, I must say that I think my fingers are spoiled. My fingers do tire a little typing on this, but nonetheless the keyboard does have a nice feel. It is not what I would call "amazing" by any means – at least not compared to my desktop mechanical keyboard.
However, I am being rather harsh, perhaps unfairly so. It probably is not bad for a laptop keyboard. Also, it is worth noting that I can get used to the feel, but function is excellent. The keyboard feels very solid, not spongy at all and certainly very well made. I think I am longing for the mechanical keys, but well no laptop has fully mechanical keys. One day. I already miss the click click click of tapping away on my mechanical keyboard, and it's been what – an hour?
Another annoyance was the placement of the fn and control key. I don't know what Lenovo was thinking when they swapped these. In fact they realize the problem was so great that they have even created the BIOS option to switch the two keys. I was very happy about that, since AutoHotKey won't work for the fn key since it is configured by the BIOS. It's easy to do, just reboot, press F1 and change the keyboard setting. Now fn and CTRL do the opposite things, but at least not when I want to CTRL+C without looking I don't press the wrong key.
Update 12-12-2016: After a couple days of getting used to the keyboard, I have already become accustomed to it. I have been able to write thousands of words in one sitting without any finger fatigue. So it is definitely a great keyboard. I did notice it does have good keyboard anti-ghosting. This means pushing multiple keys at the same time and it doesn't skip any. If I try to push all the keys at once, it only does like 10 or do letters, but still not bad for a laptop keyboard (my K95 RGB Cherry MX Red fully mechanical desktop keyboard can do practically unlimited simultaneously, but you can't really expect that from a laptop keyboard). So overall, I would say this is an excellent keyboard.
ThinkPad X1 Carbon Gen 4 Ultrabook Laptop Keyboard Pictures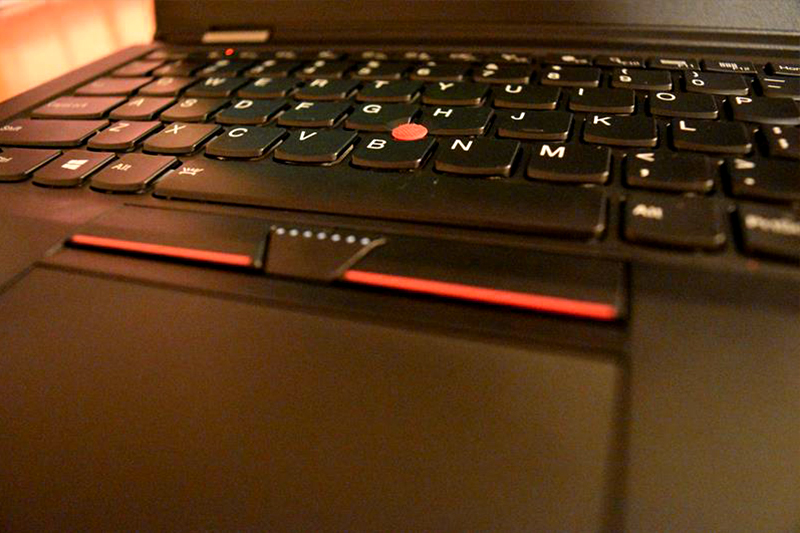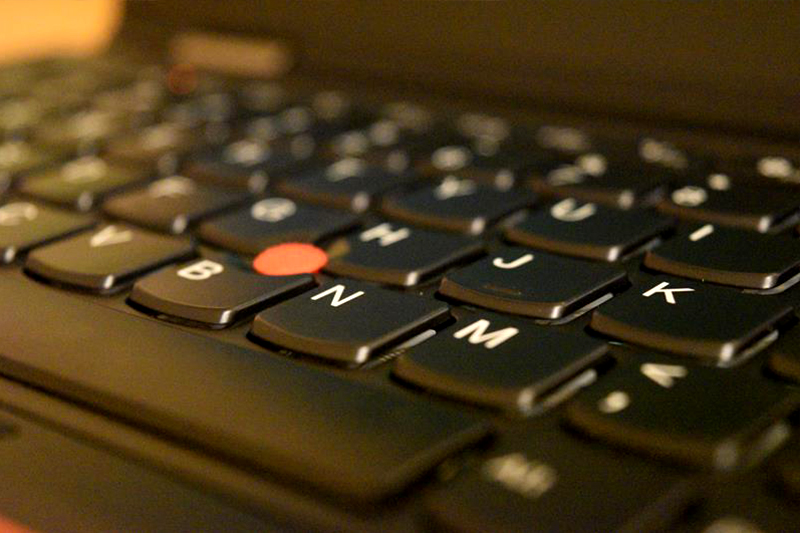 Keyboard Backlight
The backlight was also an absolute must-have for me, so I am happy this has it. This is also one quirk that bothers me. It seems that it is not possible to keep the backlight always on. You have to turn on the backlight every time you open the laptop or wake from sleep. That is annoying but they can fix this with software. Lenovo should fix this – and soon.
I also find that from an extreme angle (which I use it at sometimes), I don't love the backlight because since these keys are taller there is extensive light bleed. Also I miss the ability to change colors – but again I can't blame a business laptop for that. I prefer red. As a result of this less lovely keyboard backlight, at night oddly I actually prefer the keyboard backlight off!
Update 12-12-2016: The keyboard is annoying to use due to how much light bleeds underneath the keys. I tend to use the laptop at more of an extreme angle, especially when reclining and typing. Still, it is certainly better than no backlight, but I wish there wasn't so much light bleed underneath.
ThinkPad X1 Carbon Gen 4 Ultrabook Laptop Keyboard Backlight Pictures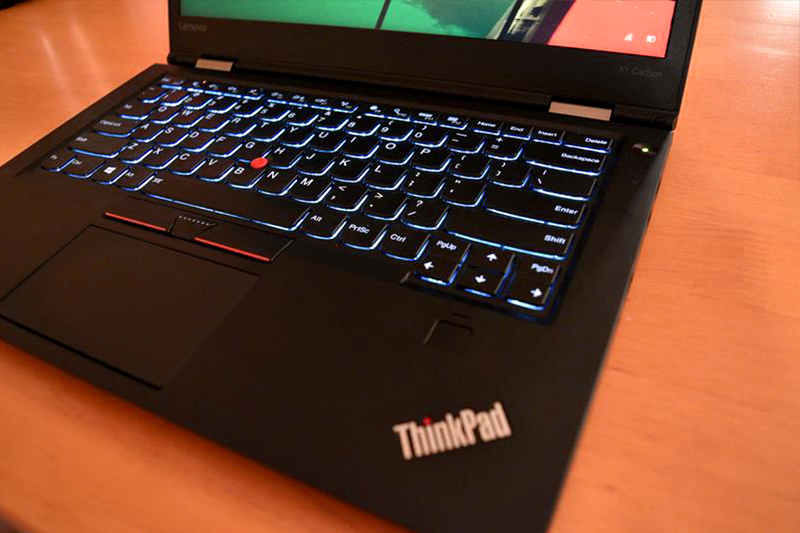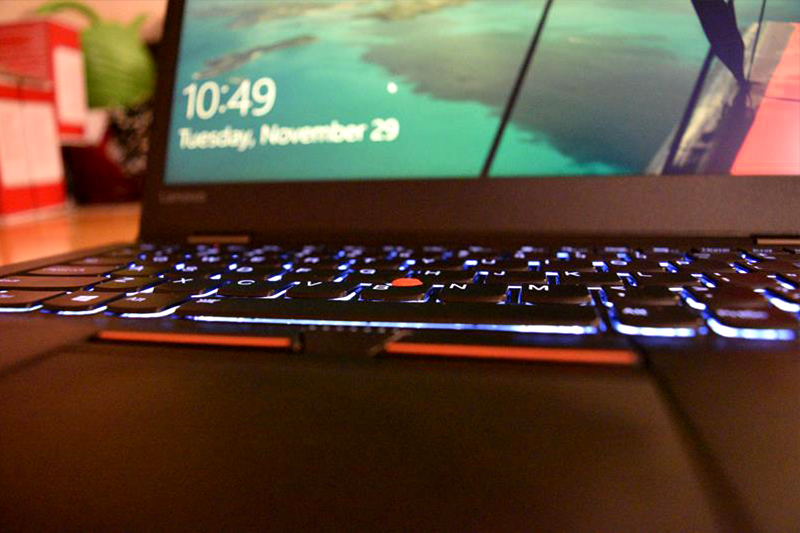 Screen Quality
Screen was another critical factor for me. I really wanted a really nice screen. And I have to say – the quality of this screen really impressed me! Like wow, I was simply amazed. Viewing from all angles is amazing, and the screen is so vivid it is almost like looking at paper in a normally lit room. It is stunning. I think the thing that really sets this off is that it is anti-glare. I think that's why it looks like paper – because there isn't any screen reflection. This is great news for my eyes. It is very bright too – in fact I like the brightness turned down a bit.
And mind you – I intentionally got the FHD 1920×1080 resolution. There were a couple reasons I got this – first, I don't like excessive scaling which doesn't really work right in Windows, and second if the resolution is too high then the icons are too small. So although it came with the WQHD (2560×1440), I opted for the standard 1920×1080 resolution. However, scaling is not the reason that I chose the 1080p resolution over the higher res WQHD screen. The real reason is because in tests I saw that the higher resolution WQHD battery life was lower by about an hour – 9 hours for the FHD 1920 screen while only 8 hours for the 2560 WQHD screen. So, all things considered, for me I would take the longer battery life. The cost was not a factor that I considered since the upgrade cost was negligible.
Update 12-12-2016: This screen is truly amazing. And once I got Windows 7 on this laptop (it was not easy even for an expert!) I am happy with the size of the items on the screen. I have already improved in productivity using this laptop. I do not get any eye fatigue looking at this screen, which is really great for me. The brightness also dgoes very bright or can be dimmed very low – both useful.
ThinkPad X1 Carbon Gen 4 Ultrabook Laptop Screen Quality Pictures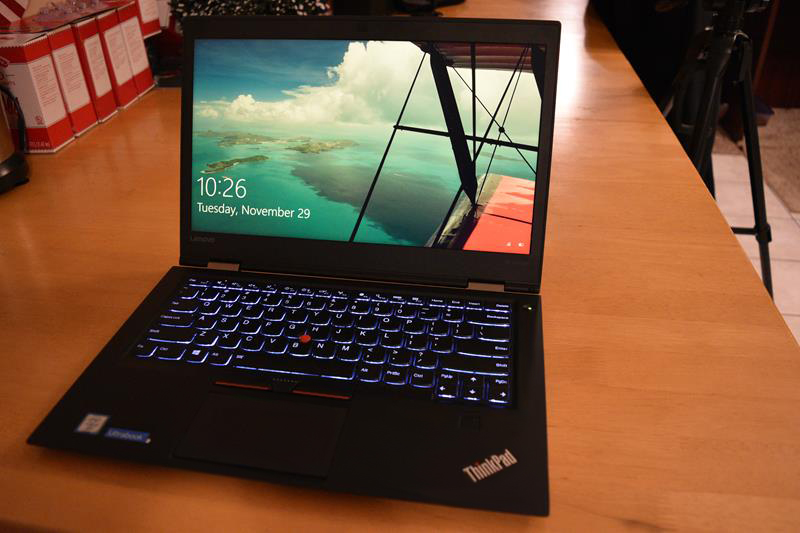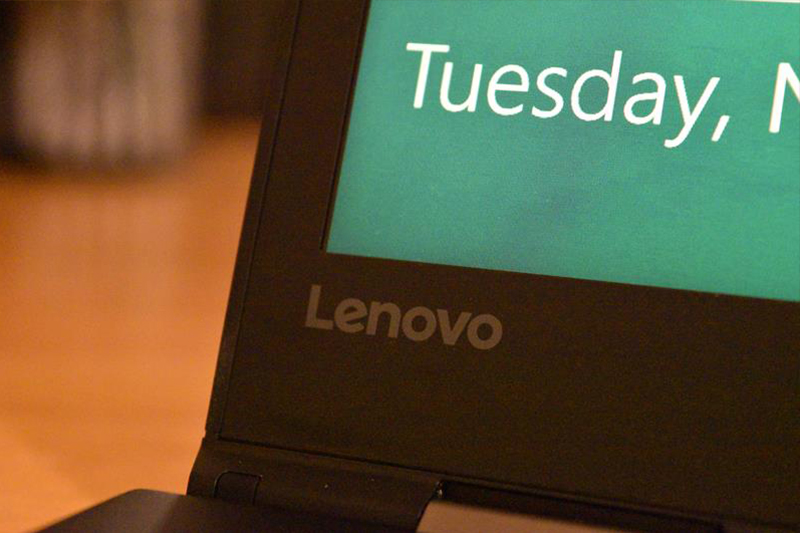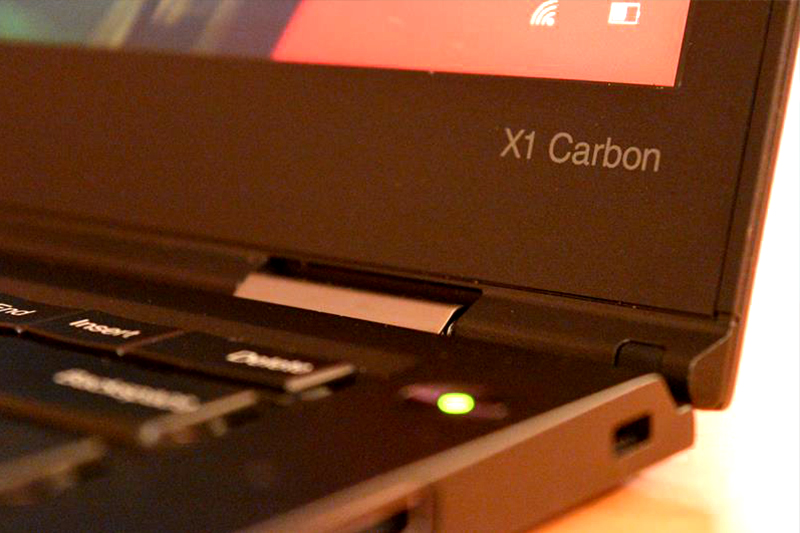 Battery Life
This brings me to the battery life. In fact, the battery life is quite good. Especially after removing all the McAfee garbage and deleting all the junk. Once you have nothing but the important things running, battery life is great. It has been a couple hours of use after a few hours of standby and it says 6 hours and 29 minutes remaining. Not bad. In fact the specs say 11 hours, although that is probably under very light use and very dim screen. But I think I could make it last at least that long with a few tweaks, especially for only writing.
Moreover I believe the battery life will be even longer if I run Linux, and in any event I will not be sticking with Windows 10 for long. In the meantime I ran the Remove Windows 10 Spying tool, I will post a link here and I strongly recommend it. I could have done it all manually but it sure saved me a lot of time to do it all with one click.
It also comes with a RapidCharge battery which charges the first 80% very quickly. This is very useful.
Update 12-12-2016: I have to say I am very impressed with this battery life. It lasts a long time. There is only one downside – it is closed off, you cannot remove the battery. During my 11 hour Windows 7 installation on this laptop (a story for another day!) it froze once (not a problem with the laptop, more a problem with trying to get non-standard software on there) and I discovered I could not shut off the laptop to eliminate the error screen. That was an annoyance. However, during daily use I doubt I will have a need for a removable battery. However, it would have been nice to have, especially because this means you cannot have a spare battery. However the battery does last a long time, especially on Power Saving Mode (in Windows) during normal use. It truly does have impressive battery life.
ThinkPad X1 Carbon Gen 4 Ultrabook Laptop Power Button Picture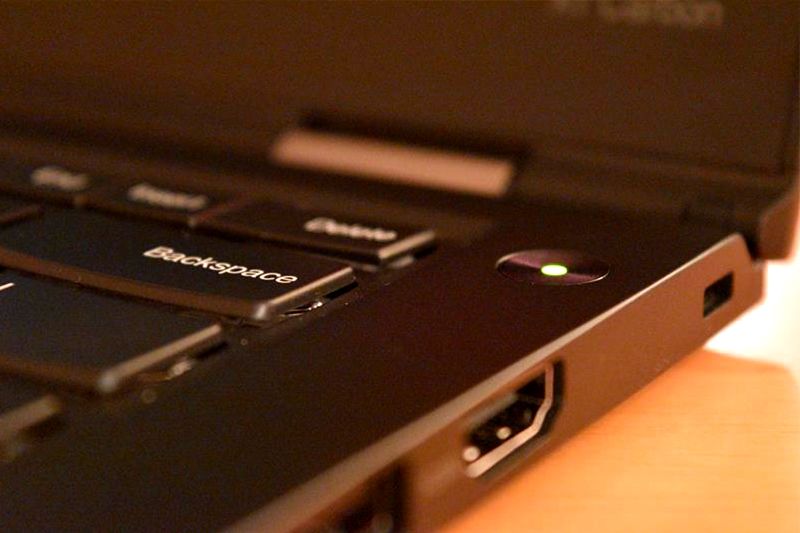 DVD Slot (none)
I would have installed 7 again immediately but since there is no DVD drive I need to create a USB key. However, I don't really need to, because I can take a SATA to USB adapter that I already have and use it to plug in an external SATA laptop drive from another old laptop as a USB DVD drive. So, the lack of DVD drive is not a problem but it did keep me from wiping the OS immediately since I have to do a couple extra things to install the new OS. (Update: actually that did not work since they are all USB 3.0 ports, will explain the details with this in another post).
Webcam
This laptop comes with a 720p webcam. However, I have little intention of using it. In fact, when not in use I prefer to have a small piece of electrical tape over the lens so hackers can't watch me while I sleep.
Ports
That brings me to the ports – and it has plenty. It has 3 USB ports, an HDMI out, and even a mini DisplayPort. All 3 USB ports are SuperSpeed USB 3.0. I was disappointed however at the lack of a full SD card slot. At first it looks like a full SD slot but it isn't. They could have easily fitted it with one, although it's possible the keyboard is too close to the side for it to be possible.
Lack of a full SD card is a small compromise, though disappointing, especially because a full 512GB SD card could have been used as a permanent extra hard drive. The largest MicroSD card is 256GB and costs much more than the 512GB standard SD card. Both are 95MBps which make them a viable hard drive addition if desired. However, for the $200 for the 256GB microSD you might as well just get a 1TB M.2 SSD for $250 or a 512GB M.2 SSD for just $189. No point in getting the 256GB $200 microSD as another drive when you could have the same total space as a full speed SSD for the same price. Not that I will be doing any of that anytime soon.
Update 12-12-2016: I was very surprised to find the microSD slot on the back of the laptop hidden under a slot. There is also a sim card slot! I have inserted a 64GB microSD card that I was not using, for permanent additional storage. You can get up to a 256GB MicroSD card to double the storage! I will take a picture of that hidden slot soon.
ThinkPad X1 Carbon Gen 4 Ultrabook Laptop Left Side Ports Pictures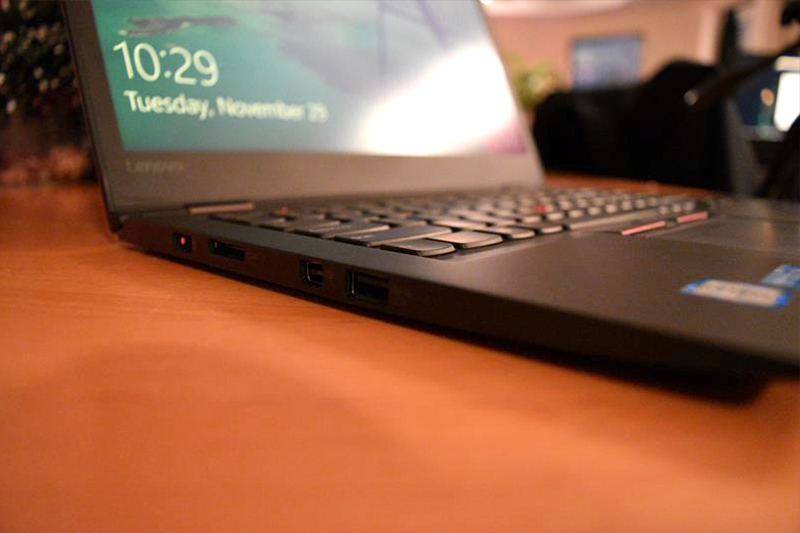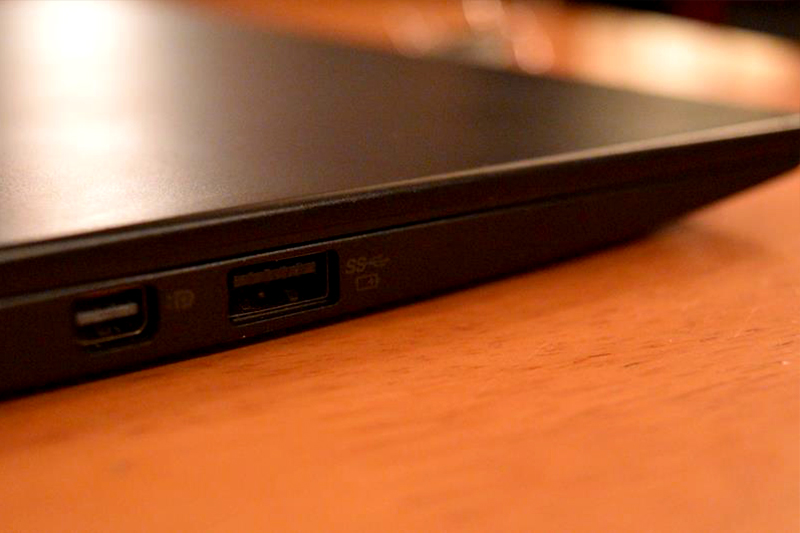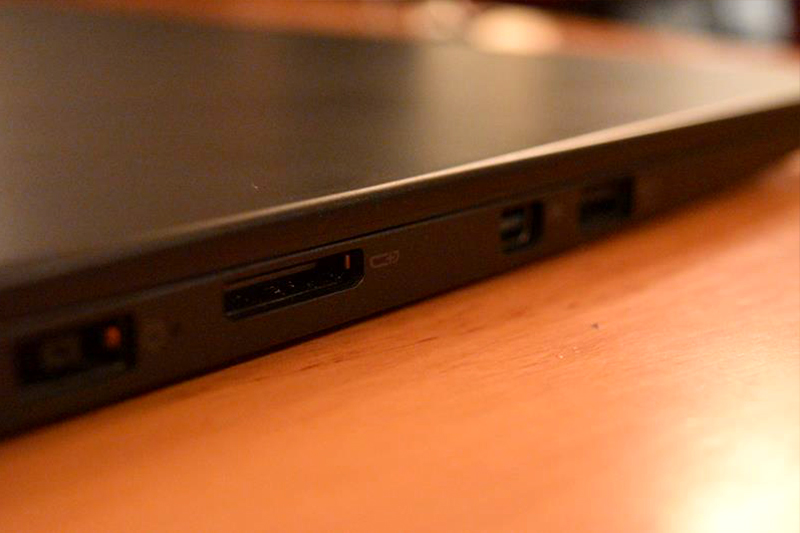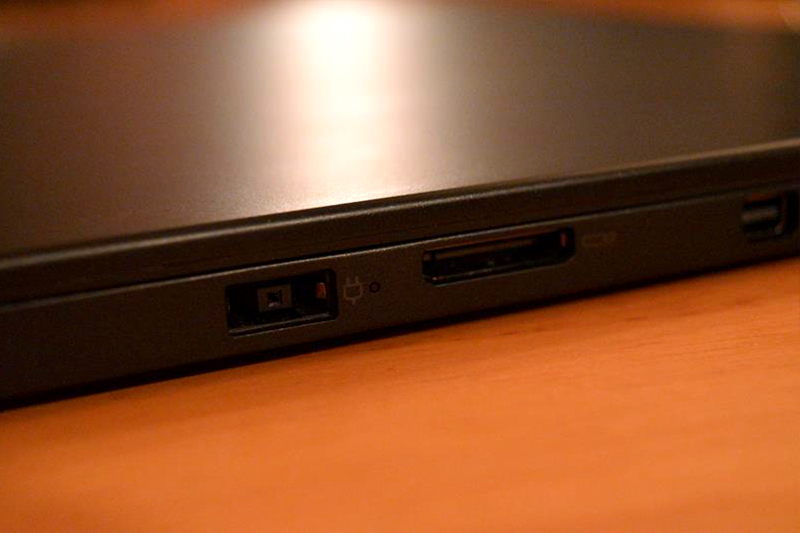 ThinkPad X1 Carbon Gen 4 Ultrabook Laptop Right Side Ports Pictures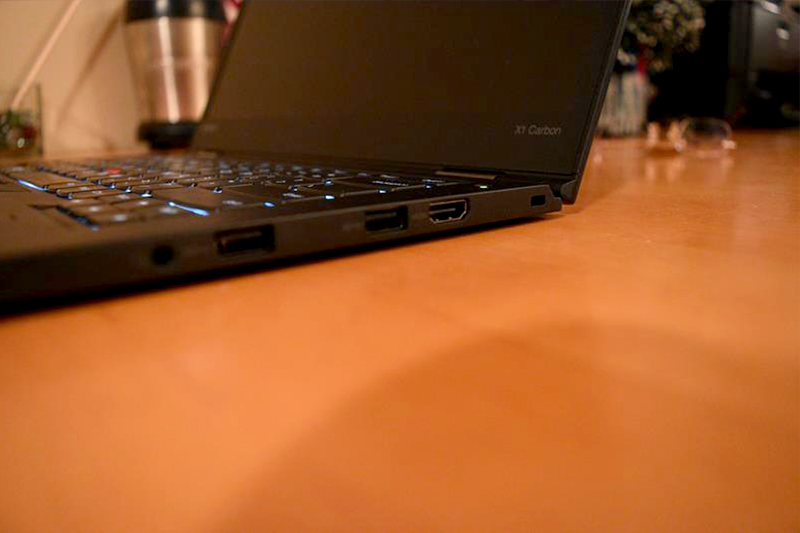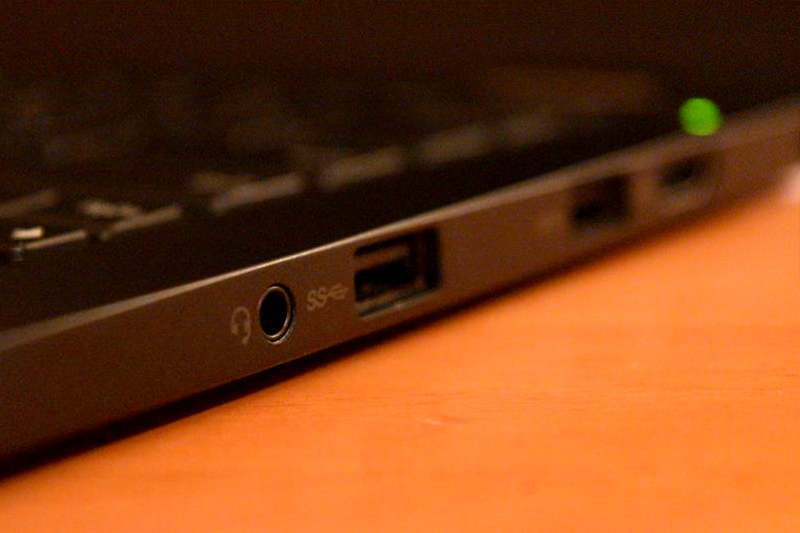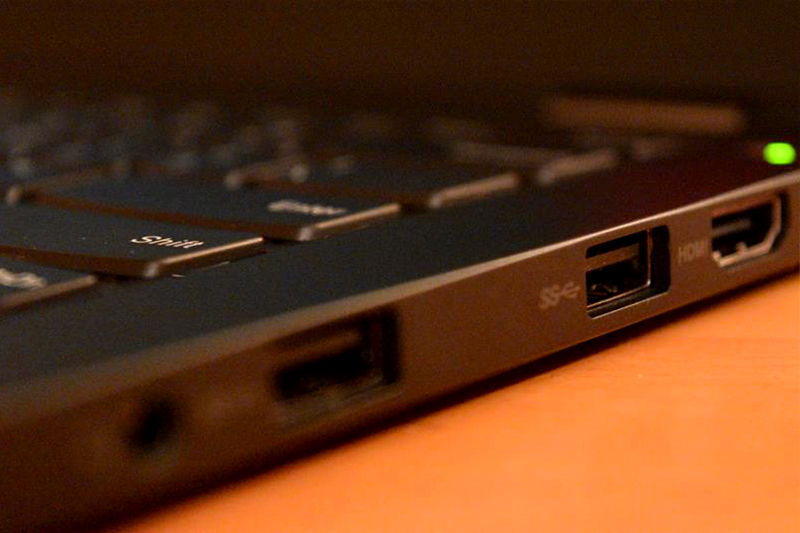 Touchpad
The touchpad is also very good. I find myself fully able to use this laptop for the purpose of writing this post – yes, I am using this laptop to write this – and do not feel restricted. The keyboard and touchpad are very solid and well-built, I am pleased with the functionality.
There is also the red pointing stick which the ThinkPads are known for, but since this is my first ThinkPad I am not accustomed to it so I still find myself using the touchpad. Nonetheless just trying it out it seems very easy to use. I could see really starting to like that once I get used to it.
Update 12-12-2016: The touchpad is a good quality, about as good a touchpad as you can get. I find it annoying sometimes to try to click with it but it is ok. One of the greatest annoyances is the zoom in and out when I am copy and pasting and scrolling a lot, that is very annoying. However, this is a software issue not a hardware one.
ThinkPad X1 Carbon Gen 4 Ultrabook Laptop Touchpad Picture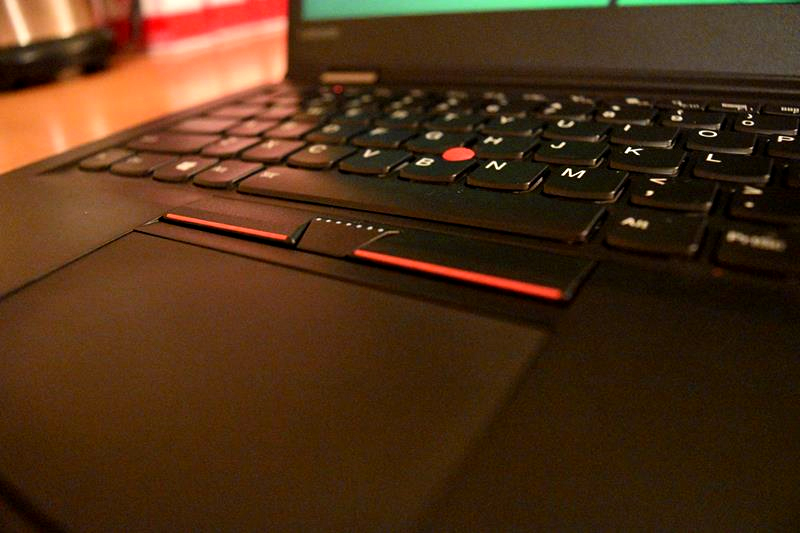 Build Quality & Hinges
The build quality is spectacular. If you're worried about bouncy hinges, this laptop has zero bounce in the hinges. Zero. Very sound and solid hinges. Even so, they are weighted perfectly as it is very easy to open or close with one hand. It is a little quirky however that it is tight to open from a full close, but this is actually good because you won't have to worry about it popping open and something slipping in between the screen, especially if you are a student and it's going in your bookbag.
I saw some other laptops which didn't close tightly and that had concerned me, not for my own sake but for others' sake. One youtube reviewer of that different laptop said they should put a rubber band around it – not something you should have to do.
With this ThinkPad X1 Carbon, however, not the case at all. It closes nice and tight. It kind of requires two hands to open because of it, but I'm really going on about nothing. After you open the lid it moves back and forth with ease with one finger even, yet the screen does not wobble – not even a little bit. As perfect hinges as you can get.
The rest of the build quality feels similarly as solid. Between the solid keyboard to the solid feel to the whole laptop, it feels like a truly premium business laptop. If I was a rich CEO with high standards, I would feel happy with this laptop. Heck, I am technically a CEO and I have high standards.
ThinkPad X1 Carbon Gen 4 Ultrabook Laptop Opened Up Flat Picture
ThinkPad X1 Carbon Gen 4 Ultrabook Laptop Hinge Picture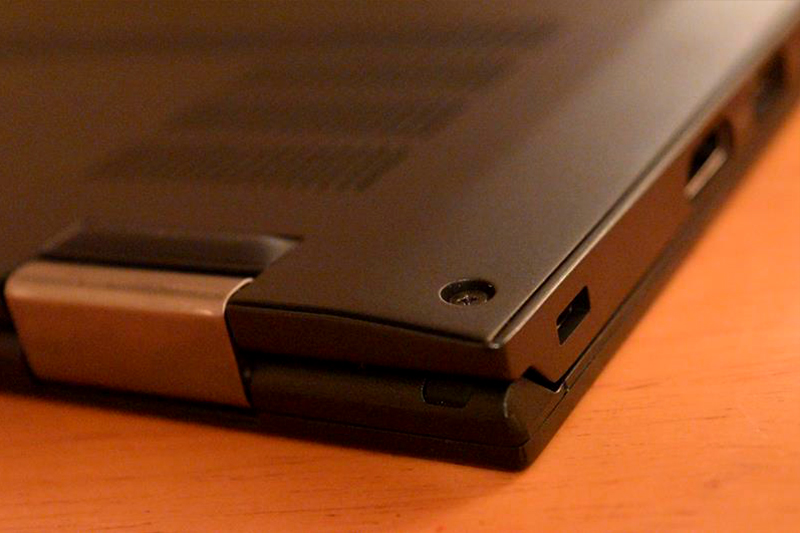 Fan & Heat
I almost forgot about the fan. That is relevant because it is so quiet I almost forgot to even mention it. Even when under load it is practically inaudible. During normal use you can't hear anything. It runs relatively cool, although it can get a little warm on your lap – but just a little warm, not hot. Even if you set it on a pillow blocking the fan, under normal use it didn't even get hot. Don't try this on a hot day of course, don't be silly and fool around with your expensive laptop.
But all in all this is truly amazingly quiet, it is so quiet it basically sounds off. I can't hear anything unless I put it up to my ear and really try hard to hear it. Actually no – I think I am just hearing my ceiling fan, I can't hear anything from the laptop even next to my ear. That is how quiet it is.
Update 12-12-2016: During very intensive tasks the fan will wind up, like doing a heavy installation for example. But for regular use there is no sound at all.
ThinkPad X1 Carbon Gen 4 Ultrabook Laptop Fan Picture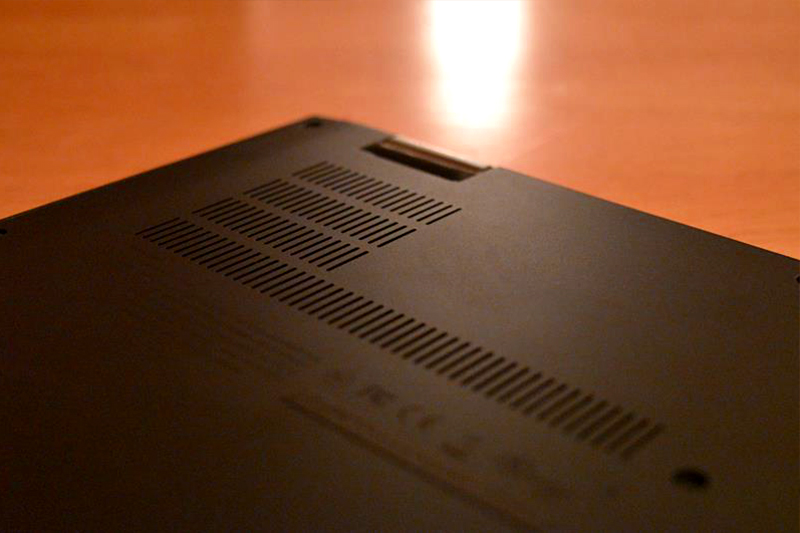 Audio Quality
I am adding an audio quality section into this post. I think the audio quality is very good. Of course, audio to me is just audio, unless it is bad. Well the audio from this is good. The speaker is on the bottom, however I can have the laptop sitting on a pillow and it does not muffle the sound at all. Not sure why but hey, that's a good thing.
ThinkPad X1 Carbon Gen 4 Ultrabook Laptop Speakers Picture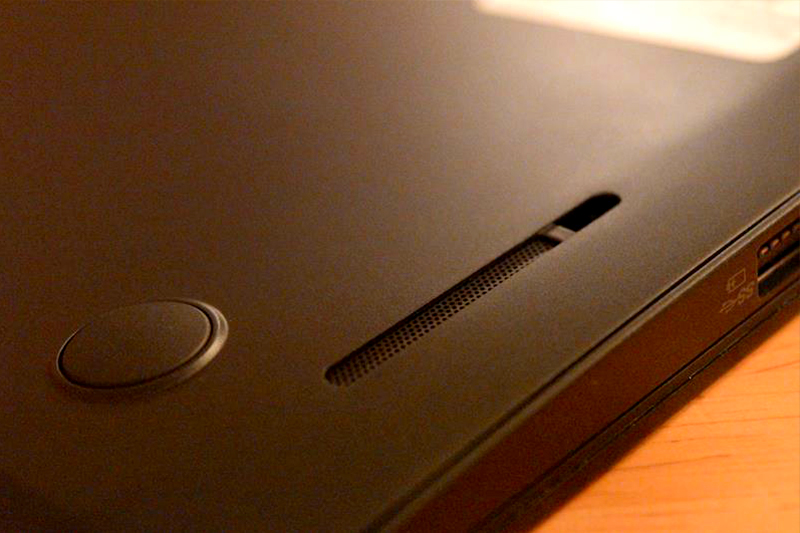 Fingerprint Scanner
It also comes with a built in fingerprint scanner, but I will not use this. I have disabled the fingerprint scanner in the BIOS.
ThinkPad X1 Carbon Gen 4 Ultrabook Laptop Fingerprint Scanner Picture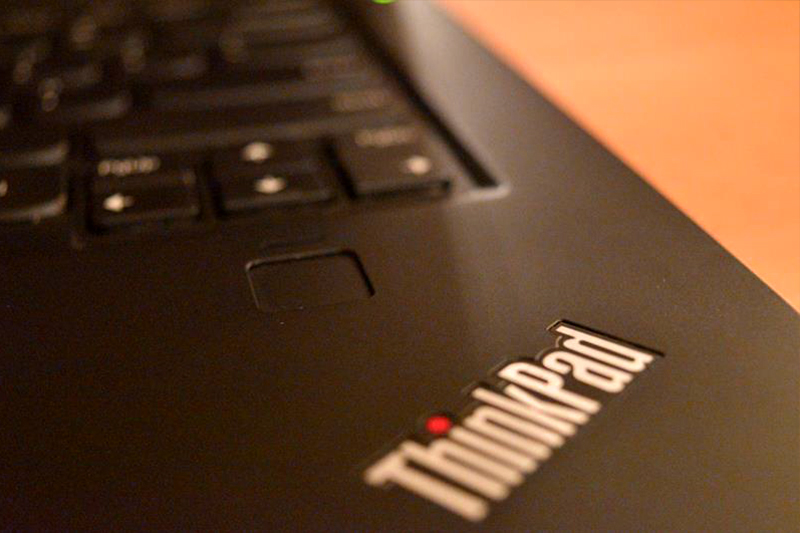 Touchscreen & 2-in-1 Tablet Mode
It is worth noting, this screen is not a touchscreen, and this laptop is not a 2 in 1. I think I might have liked to have both of those features, but they were not at the top of my list. I would rather compromise those lesser-used yet cool features and have an altogether awesome laptop that does what I need, then to have those features in a more inferior laptop such as the Yoga which has both but is not as great a laptop as this X1 Carbon. Being that this is a business notebook, it does not have the bells and whistles like touchscreen, because, as I can testify myself as a business user, those bells and whistles are not as important to business users who just want to get stuff done.
Yes, there is a certain novelty to having those features. However, they are not really necessary, so I am only mildly disappointed this does not have them. It's kind of like a child who didn't get the toy he would have only played with for one day before forgetting all about it the day after Christmas. 2 in 1 is cool, but probably will rarely be used. The keyboard isn't dead yet – not for writers anyway. Sure, I can type speedy with Swype but still prefer to do my writing on the keyboard, where by the way I can have near 100% accuracy.
Update 12-12-2016: I do find myself longing for the about to flip it around. It is so thin and light it does seem a little tragic to not be able to use it that way. However, I am still happy with this laptop over the alternatives that do have a 2-in-1 functionality. I cannot complain, for sure.
ThinkPad X1 Carbon Gen 4 Ultrabook Laptop Elegant Logo Picture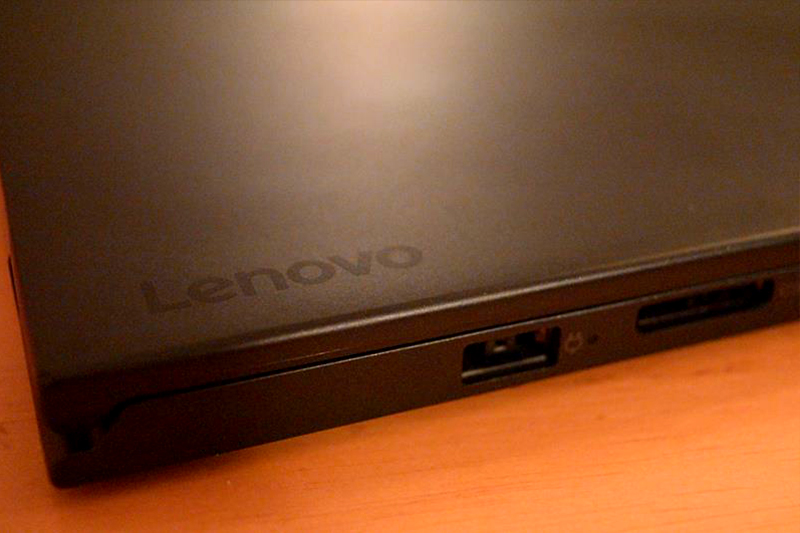 Summary
You cannot have everything, but the X1 Carbon sure comes close. It met all of my requirements, and with the Black Friday sale it fell within my price point. I won't say how much I paid, but I will say that I paid far less than the over $2,000 that this particular model is going for right now on the Lenovo website. In fact, I just looked and this exact laptop is going for $2,749 – before tax – on their website! That's right folks apparently I now have a $3,000 laptop! Wow.
Interestingly, the same model with the WQHD is $600 more at $3,349. I would not say you should pay an extra $600, because in fact I sought the 1920 FHD model intentionally for the lesser scaling and the longer battery life. In any event my 1920 screen is truly amazing. I think it is the anti-glare which really takes the cake.
I do wonder if they will sell any of these at those prices. If I had unlimited funds, I would say that it's probably worth paying $2,000. It is probably the best laptop I have ever owned – although largely due to advances in technology such as that it can be ultra thin and ultra light and ultra fast. It really is an ultrabook.
Still, the build quality is excellent, no holds barred. It is truly superb. They keyboard is excellent and this laptop is as portable as you can get, all with a relatively large 14″ very vivid and amazing anti-glare screen tucked into this small ultrabook. As far as ultrabooks go, I would say it probably doesn't get any better than this with current technology.
Well that's about all for now, I will write a more extensive review later and after I have gotten some more use out of this and had some experience with it. These are my impressions from day 1 and overall I am quite happy with this laptop.
p.s. I took a bunch of high-resolution DSLR photos, I will upload them later. I also finally got Windows 7 installed on this – it took many hours and was near impossible to do. Will do a writeup of that later.
Update: As promised, I have added the pictures into the post.
Update 2: I have now written a 3-month review update. Read more:
Share this:
Welcome my friend, Helper Cat says you need to register for that! :)