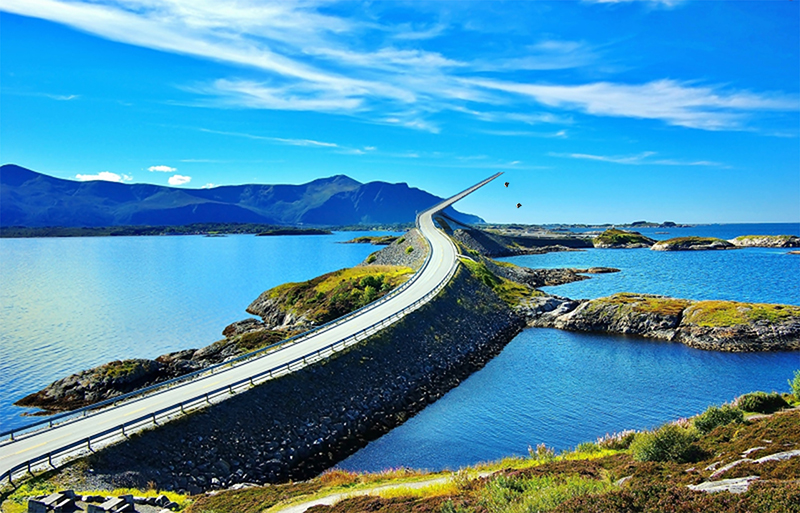 Some architects responsible for building bridges take their job more seriously – and with a very creative and awesome twist. These marvels of engineering maintain function but provide form that most bridges can only dream of surpassing (if bridges were sentient).
These magnificent masterpieces have made their homes around the world, transporting as many as millions of people per year over their glorious curves and arches. These beautiful bridges give new life to their cities – and sometimes even become the focal point of the city, placing a previously unknown city on the map.
Here are the top ten most amazing and awesome bridges that it can be hard to believe actually exist. One of them literally breathes fire every night!
---
10

Melkwegbridge Bridge, Noordhollandsch Kanaal, Purmerend, The Netherlands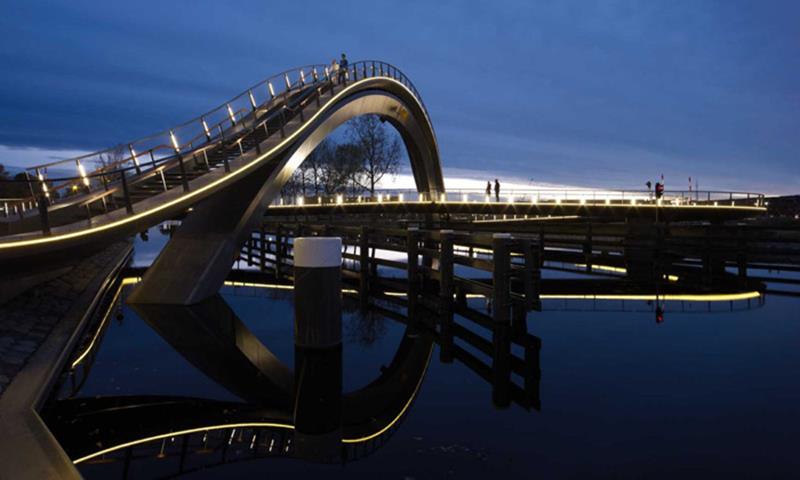 What's Awesome:
A fascinating pedestrian walkway, this unusual bridge has a large hump that allows pedestrians to have a beautiful view as they walk across to get to their destination, while also allowing plenty of room for boats or sea monsters to travel underneath safely. The bridge also wraps around a couple times as a cool and romantic walkway. It also lights up a solid light string along the edge which makes a cool reflection in the water.
The Melkwegbridge bridge was completed and opened on October of 2012. The original preliminary design was finished in 2007 which means that it took 5 years from conception to completion. It spans 217 feet (66 meters) and cost €6 million Euro to build ($6.7 million USD).
Source:
NEXT Architects - Melkwegbridge Bridge
---
9

Juscelino Kubitschek Bridge (President JK Bridge), Lake Paranoa, Brasília, Brazil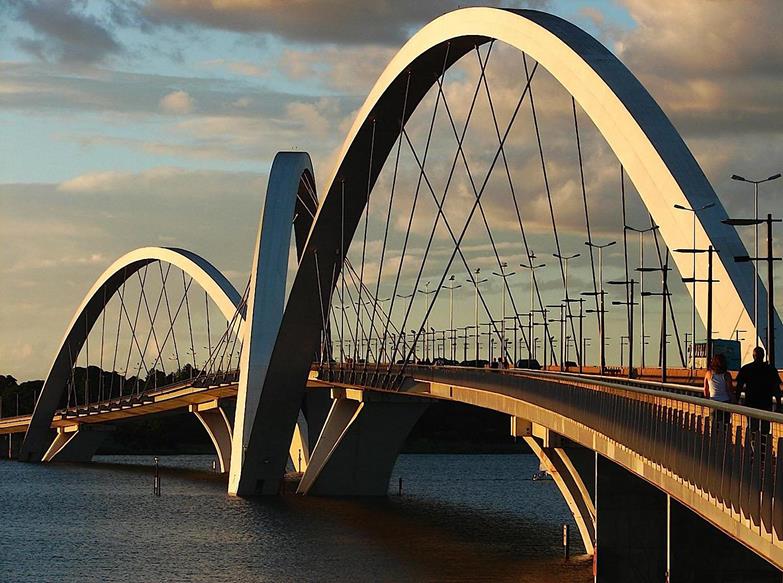 What's Awesome:
This amazing and unusual bridge has three humps as a supporting structure. The way they turned the arches diagonally really adds to the magnificence of this bridge. The arches look very similar to the arch of St. Louis, and provide a wonderful combination of both form and function as they hold up the bridge.
The Juscelino Kubitschek bridge opened on December 15, 2002, becoming a Brazilian icon. It spans 790 feet (290 meters) and cost $56.8 million USD to build.
Source:
Structurae - Juscelino Kubitschek Bridge
---
8

Nanpu Bridge, Shanghai, China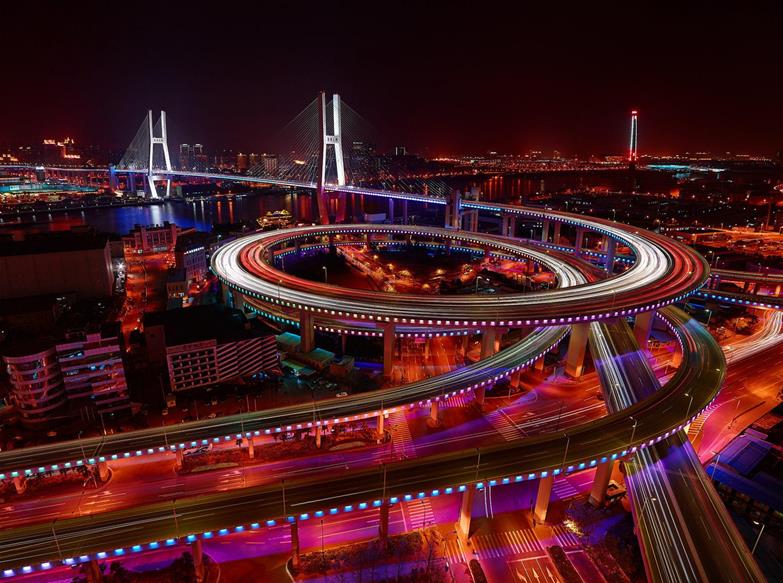 What's Awesome:
This iconic spiral bridge is located in one of the biggest cities in China. Spanning at ft, this huge spiral bridge has taken it's place as a centerfold piece in Shanghai's civic architecture. Spiraling completely out of the way in a full loop, this bridge must be very fun to drive around, as long as you don't get dizzy. The loop allows a much more gradual decline rather than a steeper drop to meet with the other side.
An older bridge, the Nanpu bridge opened on September 1, 1991. It spans 1,388 feet (423 meters), making it one of the longest cable bridges in the world, 57th as of this writing. Even more impressive, the full length of the bridge is actually 27,382 feet (8,346 meters).
Nanpu Bridge's cost to build in 1991 was 820 million Chinese Yuan (CNY), which is $123,198,973 USD. Adjusted for inflation in 2016, that puts the cost of this bridge at a whopping $217,304,173 (inflation really makes a difference!). This means with the same buying power, the same bridge would have cost over $200 million dollars today. Wow, that is one expensive bridge.
Source:
Structurae - Nanpu Bridge
---
7

Storseisundet Bridge (aka "The Drunk Bridge"), Norway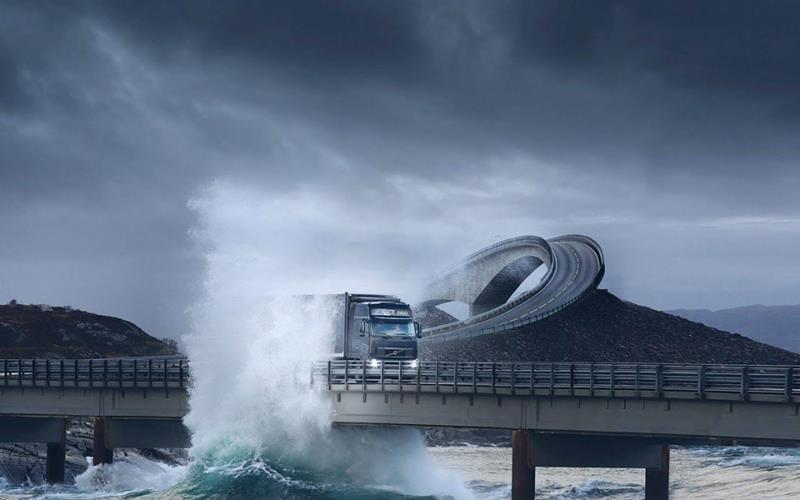 What's Awesome:
This scary bridge is exposed to the elements of the Atlantic ocean all year round. Many travelers are terrified to pass the bridge because from one side it looks like the bridge ends and drops off into the ocean. As a result of this optical illusion, this bridge has been dubbed the "drunk bridge" by Norwegian locals.
The bridge opened on July 7, 1989, making it one of the oldest bridges on this list. Ironically, it connects to a road built in 2005, and has since become very popular with tourists. It spans 850 feet (259 meters) and the highest part of it is 246 feet (75 meters) high. It took six years to build because during that time there were 12 hurricanes!
The total cost to build Storseisundet Bridge was $122 million Norwegian Krone ($14,596,466 USD). Adjusted for inflation that's $28,279,004 USD in 2016. It was paid for by taxpayers as a toll road over the period of 10 years, and in 1999 the toll was removed.
Source:
Structurae - Storseisundet Bridge
---
6

Peace Bridge, Calgary, Alberta, Canada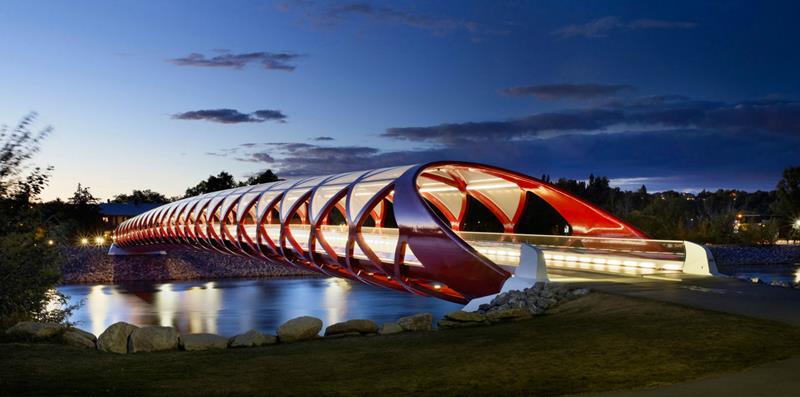 What's Awesome:
This lovely bridge has a highly creative helix-shaped cover that adds true form to the function of this cool city in Canada - "cool" meaning both awesome as well as cold. This beautiful bridge provides a subtle yet unique addition to the landscape of the city.
It was designed to connect the Canadian community of Sunnyside via the northern Bow River pathway to Downtown Calgary in Alberta by means of the southern Bow River pathway. The bridge was needed because of an increase in commuters between these two locations, and now is used by over 6,000 people every day.
This bridge provides more than just design and function, however. The Peace Bridge was designed to last a minimum of 75 years, withstand Calgary's flood cycle which occurs about once every 100 years, make it easier for people of all mobility types to use without using barriers, and provide comfort and security for travelers through good use of lighting.
The bridge opened on March 24, 2012. It has won a place in the top ten public spaces in 2012, as well as the top 10 architectural projects of 2012. It spans 428 feet (131 meters) across its total length, of which the tube girder portion is 413 feet (126 meters). It is 26 feet (8 meters) wide.
The total cost to build the Peace Bridge in the city of Calgary in Alberta, Canada was $24.5 million, which includes $3.9 million for architectural and structural design, specialized engineering and quality assurance, and $2.6 million for project administration and contingency. The actual construction cost was $17.995 million.
Source:
Calgary.ca - Calgary's Peace Bridge receives special architectural honour
---
5

Lucky Knot Bridge / Dragon King Kong Bridge / Meixi Lake Bridge, Changsha, China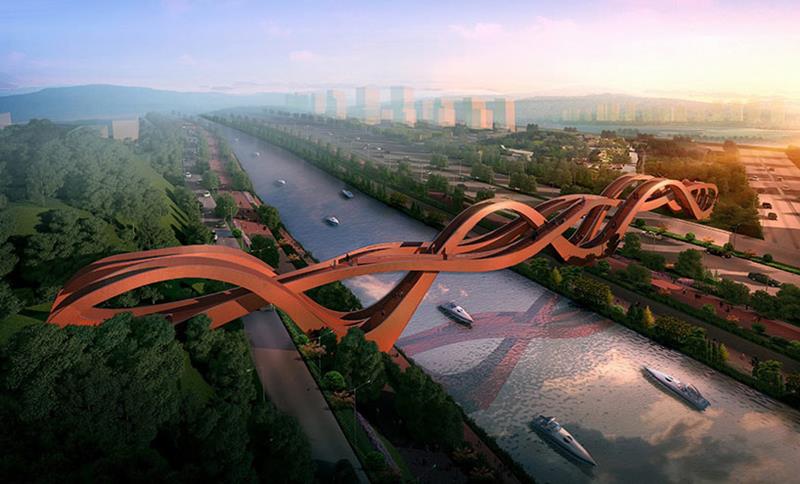 What's Awesome:
This pedestrian bridge would probably rank higher if I was not dubious about its authenticity. I could only find CGI photos of this bridge. Apparently the architectural design won a contest called NEXT, but whether it was actually built or if it is currently under construction is up in the air at this point.
Nonetheless, it is a truly fascinating and very unusual bridge that has not one but three separate walkways. It could be a lot of exercise trying to take the harder route! The design of the intersecting pathways is based on the Möbius ring principle. The up and down weave pattern is homage to the a Chinese knot, an ancient decorative Chinese folk art.
The Lucky Knot bridge was supposed to be scheduled to be constructed in 2014. If that is the case, it could be either under construction or even possibly completed by now. Since I was able to find numerous sources that say it is supposed to begin construction in 2014, there is a good chance this bridge is actually being built.
As for the dimensions, it will span 607 feet (185 meters) and will be 72 feet high (22 meters) high. There is currently no information available as to its cost to build.
Source:
NEXT Architects - Lucky Knot / Dragon King Kong Bridge
---
4

Python Bridge / High Bridge / Lage Brug, Amsterdam, Netherlands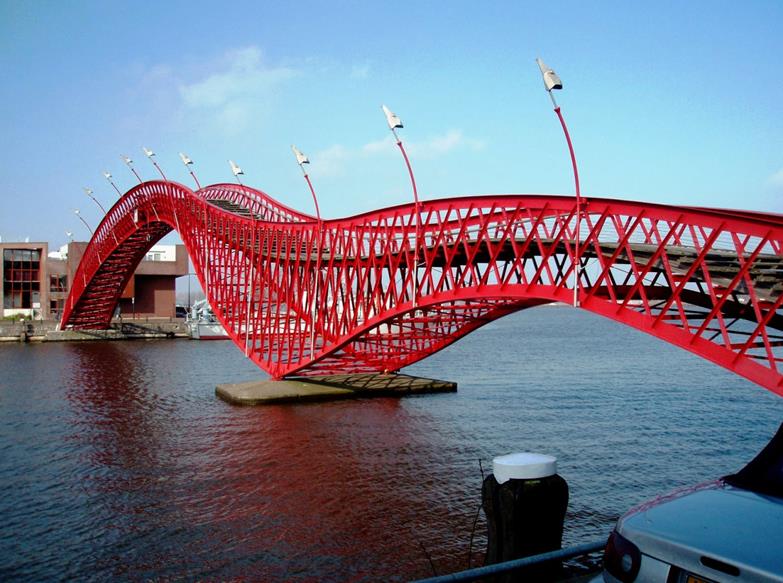 What's Awesome:
This bridge is highly unusual and very interesting. It almost seems like a rollercoaster to drive across, as the bridge's road is not straight but curvy. The architects who designed this bridge were certainly thinking outside the box. It almost seems like the architect fell asleep drawing the sketch and once awakening realized the curvy edge would be really cool and challenging to design.
Instead of a paved pathway, it instead uses steps, which seems to be both for safety and longevity. It is beneficial for safety because the ups and downs of this bridge is probably easier to traverse by using steps rather than a steep pathway. As far as longevity, it could be inferred that due to its unusually shaped pathway, it could be difficult to maintain and repair, as well as be more vulnerable to cracking from weather changes, if it were a paved path. By using steps, maintenance is far easier and it allows for expansion and contraction so that it can withstand seasonal temperature changes over time.
The Python bridge was built in 2000 and opened in 2001 in Eastern Docklands, Amsterdam. It connects Sporenburg and Borneo Island across the canal, spanning 295 feet (90 meters). It's cost to build it presently unknown, but this creative and unusual bridge won the International Footbridge Award in 2002.
Source:
West 8 - Bridges Borneo-Sporenburg
Here is a picture showing the steps for the walkway: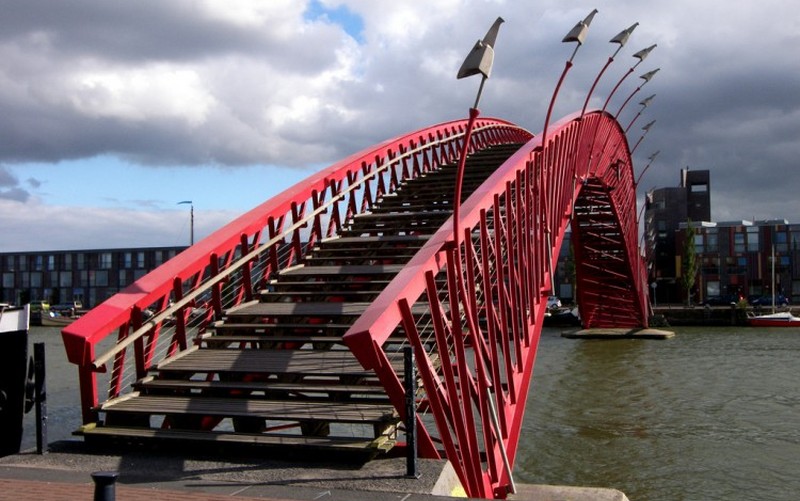 ---
3

Henderson Waves Bridge, Mount Faber Park, Singapore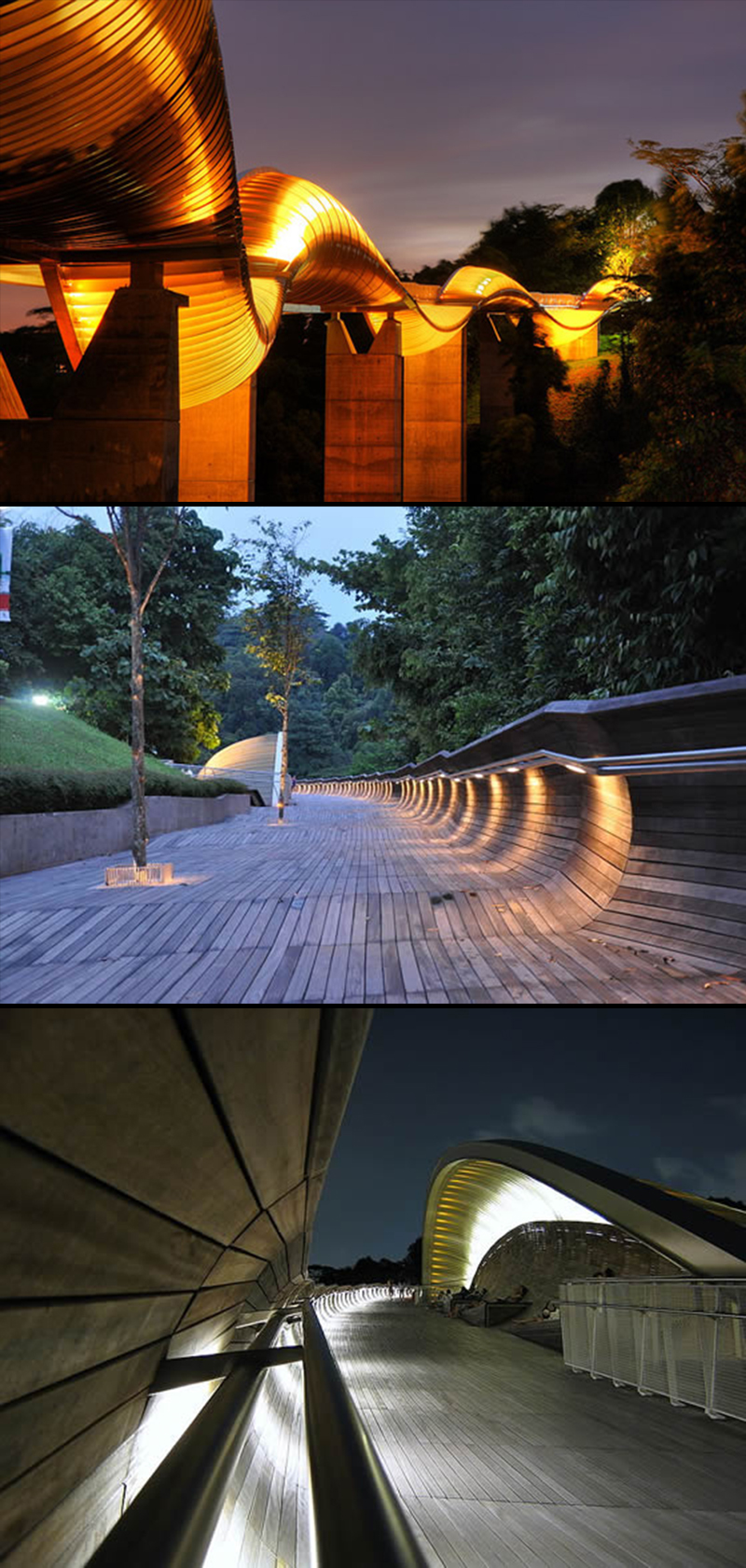 What's Awesome:
This is an awesome bridge that connects two sections of the Southern Ridges trail in Singapore, which really takes bridge design to another level. It almost looks like an animal with a full belly, or some sort of marine creature. The curves aren't the only cool part though - the actual walkway is very cool too with curved hardwood sides - something that probably no other bridge has done. These curved sides are made of yellow Balau wood, which is only found in Singapore.
The Henderson Waves bridge opened on May 10, 2008. Its total length spans 274 feet (84 meters) and cost $25.5 million to build. The bridge has 7 semicurved structures alternating above and below the walkway. It is illuminated with LED lights from 7pm to 2am every day. It is also considered to be the highest bridge in Singapore.
This mesmerizing bridge has won multiple architecture awards, including Cityscape Global Awards and ULI Global Awards For Excellence in 2010, and BCA Construction Productivity Awards Platinum and SIA Architectural Design Awards in 2011.
Source:
RSP Architects Planners & Engineers - Henderson Waves Bridge
---
2

Helix Bridge, Esplanade Mall, Singapore

What's Awesome:
The Helix bridge is truly an amazing and fascinating work of art. this bridge that goes into the Esplanade Mall in Singapore is wrapped in a helix shaped cover that also has lights all around that can change color. The bridge is designed to resemble the double helix of human DNA. They even take it a step further by lighting up pairs of colored letters of c, g, a, and t at night in red and green as a representation of the four base pairs of DNA, which are cytosine, guanine, adenine and thymine.
Hexix Bridge was designed using a special duplex stainless steel that gives it superior structural strength that requires minimal maintenance. Its double-helix shaped design allows it to use five times less steel than conventional box girder bridges, while being able to support up to 16,000 people at a time.
Dr. See Lin Ming, the Arup project leader, said, "The Helix is truly an engineering marvel. While the structure is incredibly delicate and intricate, it's been engineered to support more than 10,000 people at a time. The Helix is the first example of this structural solution applied to a bridge - there is nothing else like it."
The completed bridge opened on July 18, 2010. It spans 919 feet (280 meters) and cost the US equivalent of $61,569,312 to build ($82,900,000 Singapore Dollars). Additionally, the bridge is high enough for boats to pass underneath, with its height of 29 feet (8.8 meters) above the Marina Bay and Marina Channel below.
Source:
COX Architecture - Helix Bridge
Here is another picture showing it in blue: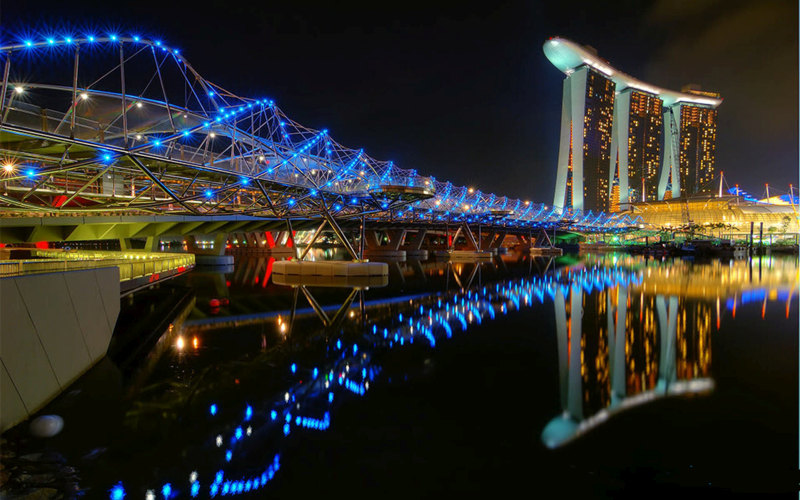 ---
1

Dragon Bridge, River Han, Da Nang, Vietnam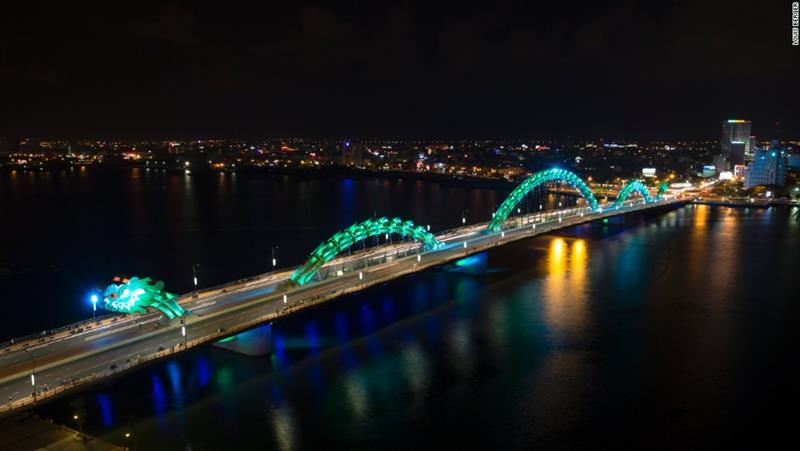 What's Awesome:
Ranking at number one on the list, the dragon bridge is very awesome for more reasons than one. These architects decided to take it a bit further, and not only create an actual dragon, but make the dragon breather actual fire every night at 10pm! This would be a litigator's nightmare in other parts of the world, but somehow they got away with shooting actual fire above oncoming traffic every Saturday and Sunday night at 9pm. The dragon head also opens up to flare its facial scales. Very awesome.
The Dragon Bridge crosses the Han River at the Le Dinh Duong/Bach Dang traffic circle in Da Nang city, providing the shortest passage from the Da Nang International Airport to other main roads in the city, as well as a faster route to Non Nuoc Beach and My Khe Beach. The bridge has six traffic lanes making it capable of handling large amounts of traffic across the city, as well as tolerating a new influx of tourism, since the new iconic bridge is adjacent to the international airport.
Designed by Louis Berger and Ammann & Whitney, a Louis Berger company, this literally fire-breathing dragon bridge in Vietnam won an international design competition. The bridge started construction on 19 July 2009, was completed on October 26, 2012, and opened to the public on March 29, 2013. It spans 2,185 feet (666 meters), is 123 feet (37.5 meters) tall, and cost VND 1.5 trillion dong to build ($88 million USD). It was constructed by Vietnamese Bridge Company No. 75 and Company No. 508, an affiliate of Civil Construction Engineering Corporation No. 5.
Source:
Louis Berger - Fire-breathing Dragon Bridge | Vietnam
Here is a picture of the Dragon Bridge actually breathing fire at night: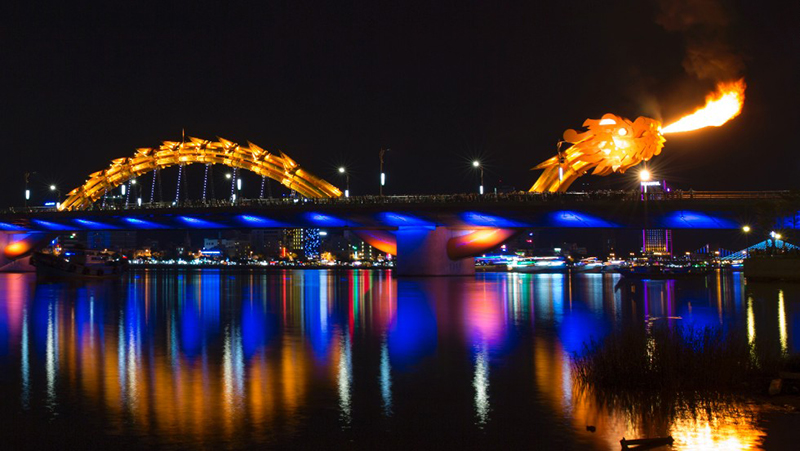 ---
Share this:
Welcome my friend, Helper Cat says you need to register for that! :)